The Home of Premium cleaning tools and textiles for marine, RV, Auto and Aviation.
The Perfect Pole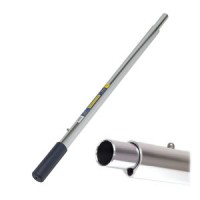 The strongest, easiest-to-use handle made. Telescopic and fixed length. Patented Instr-just internal tracking system, with the exclusive Uni-Snap quick release mechanism, makes extending and collapsing the Perfect Pole quick and fool proof, eliminating frustrating alignment problems. The button will pop up in the next hole, every time. Changing accessories is a snap!
Exclusive teardrop shape makes it up to 67% stronger than other aluminium handles
No bow when fully extended
Ergonomic design is easier to hold and less tiring to use
Accepts all Swobbit System Uni-snap accessories ensuring a quick-releasing, positive locking, no slip connection
Constructed from custom extruded 6463 T5 anodised aluminium; inner section and fixed handles constructed from 6063 T8 anodised seamless drawn aluminium tubing for superior strength and corrosion resistance
The Swobbit Cleaning System
This unique cleaning system incorperates the greater strength and ease of adjustment of the Perfect pole together with the quick change heads with over 16 different types from Brushes, drying mops, soft wash tools, swivel plates to boat hooks, which means you are able to save space onboard by only requiring one pole to achieve all these operations.